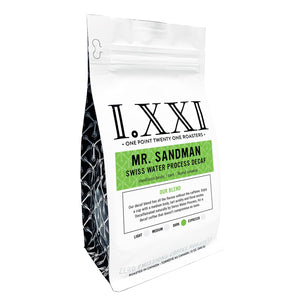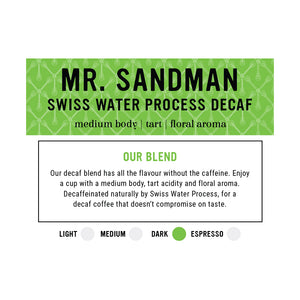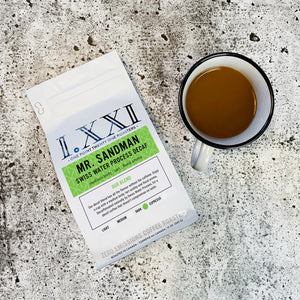 Mr. Sandman, bring me a dreamy decaf! This decaf blend has all the flavour without the caffeine. Enjoy a cup with a medium body, tart acidity and floral aroma. Decaffeinated naturally by swiss water process, for a decaf coffee that doesn't compromise on taste!

A chemical-free process allows Swiss Water Process Decaf to remove the caffeine while preserving the coffee beans' subtle and distinct origin and flavour characteristics. Our Swiss water process beans make great tasting coffee with no added aftertaste.
We small batch roast our One Point Twenty One Coffee out of ECS Coffee in Burlington, Ontario. We're all about great coffee, from carefully selected beans to our sustainable & precise roast methods. We use a Bellwether coffee roaster to produce a consistent roast that brings out the tasting notes in each coffee. Our roaster uses clean technology that produces zero emissions, eliminating roast processes that harm our environment and planet. 
More Info
Size: 12 oz. whole beans per bag
Roast: Dark Roast
Tasting Notes: Medium body, tart, floral aroma
Decaffeination: Swiss Water Process decaffeinated coffee